News
Parish pilgrimage to Fatima: photos and reflections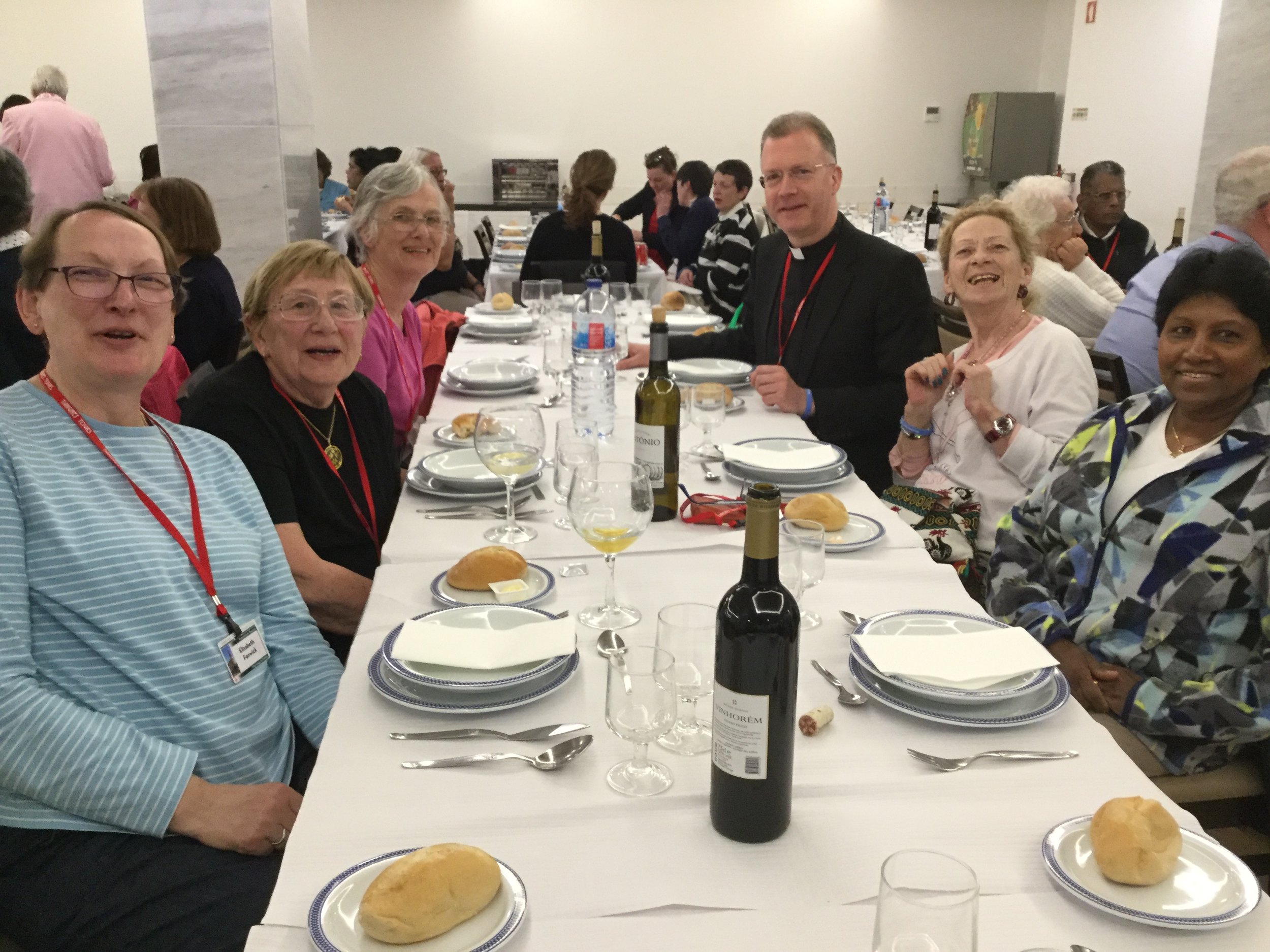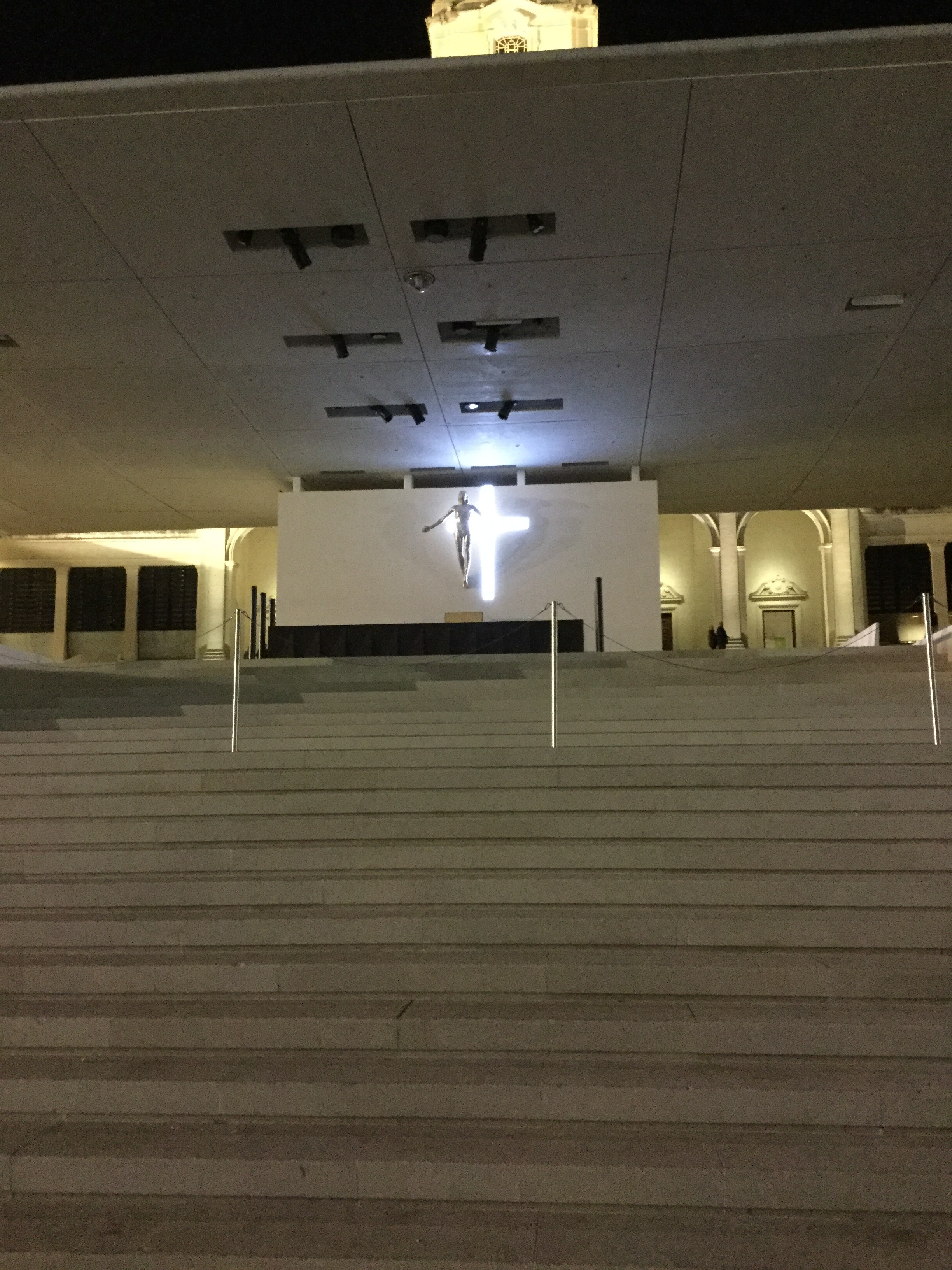 Here are a selection of photos, from arrival through sightseeing in Lisbon to Mass celebrated by Cardinal Nichols and participating clergy at Cathedral of St Anthony in Lisbon.
Day 2: Morning prayers in the hotel chapel then to the sanctuary, which is very impressive. Mass was celebrated in the Chapel of the Apparitions. In the afternoon we followed the Way of the Cross and the day ended with International Rosary and torchlight procession.
Day 3: Today we visited the town of Santorum with Mass in the Church of the Eucharistic Miracle - an amazing place. After dinner we joined the International Rosary and Torchlight Procession.
Final day: We made our way in brilliant sunshine to Mass in Holy Trinity Chapel following which we enjoyed a coffee before visiting the Basilica containing the graves of the children. A fitting end to a memorable pilgrimage
A special tribute to a special parishioner
Solemn Mass on Easter Sunday was special for two reasons: it was celebrated by His Eminence Cardinal Cormac, and it culminated in a very special award for a very special parishioner. Joseph Carty has been a pillar not only of Chiswick but also of Westminster for many years. Fr Michael pays tribute to him in the newsletter. A number of his friends were invited to 'put on Sunday best' for the occasion, which was supported not only by his daughter and other members of his family, but also representatives of the numerous organisations for which he had worked. Fr Michael presented the 'papal-looking' medal and Cardinal Cormac said he had been the beneficiary of Joseph's kindness especially when he needed a smart car to visit the Queen. Joseph, in his words of thanks from the ambo, said in the past when he could not be heard, he could blame it on the microphone. Now, sadly, this is no excuse since Joseph has been diagnosed with motor neurone disease. Joseph, we are all praying for you.
The church was packed, standing-room only. The choir, amazingly still in great voice after so many Masses, sang Haydn's Little Organ Mass. Cardinal Cormac's very special Easter homily ended by reminding us of gaudium et spes – joy and hope to take us forward.
By parishioner Dinah Wiener
Some images of our Easter Vigil in Chiswick [click to view]
Holy Thursday 2017 reflections
It is the evening of Holy Thursday as we gather to honour Jesus's command to "Do this in memory of me". The Last Supper is at the heart of our faith and identity. In the secular world it is the beginning of a holiday weekend and there is a momentary temptation to stay home and open a bottle of wine. But no. For us at the Mass of the Lord's Supper at Our Lady of Grace, this is a time for seriousness. Around the Eucharist, whose beginnings we are remembering, we have made our deepest hopes.
The church is full and Cardinal Cormac is a most welcome celebrant after his recent illness. It is the first time he has celebrated Holy Thursday with us and his presence symbolises powerfully our unity with the Universal Church. Fr Peter Gilbert, our former parish priest is there too, along with his successors Fr Michael and Fr Andrew. Together they stand for what this night also commemorates – the institution of the priesthood.
In Jewish tradition the Passover meal begins with the invocation to remember "why this night is different from all other nights". Cardinal Cormac's homily does likewise – he reflects movingly on the Eucharist, on grace and on the commandment of love. Then he washes the feet of 12 of our fellow parishioners. It is a charged moment – humility and service made touchingly visible
We are fortunate at Our Lady of Grace in a quality of liturgy which most parishes would envy. The choir sings settings of the Kyrie and Gloria by the Scottish composer James MacMillan and, at the Offertory, Thomas Tallis's anthem If ye love me. But for many of us it is Soul of my Saviour which brings a particular frisson. It is the quintessential Catholic hymn, heard too rarely, which summons up the faith of generations.
Finally, the priests and ministers process to the Altar of Repose. As they do, the choir sings Thomas Aquinas's great Eucharistic hymn Pange Lingua and many a voice swells at the lines
Tantum ergo Sacramentum
Veneremur cernui…
On the High Road afterwards, no-one is really in a mood for chit-chat. There are just a few quick greetings before we make our separate ways into the gathering night.
By Brendan McCarthy, parishioner
Holy Thursday 2017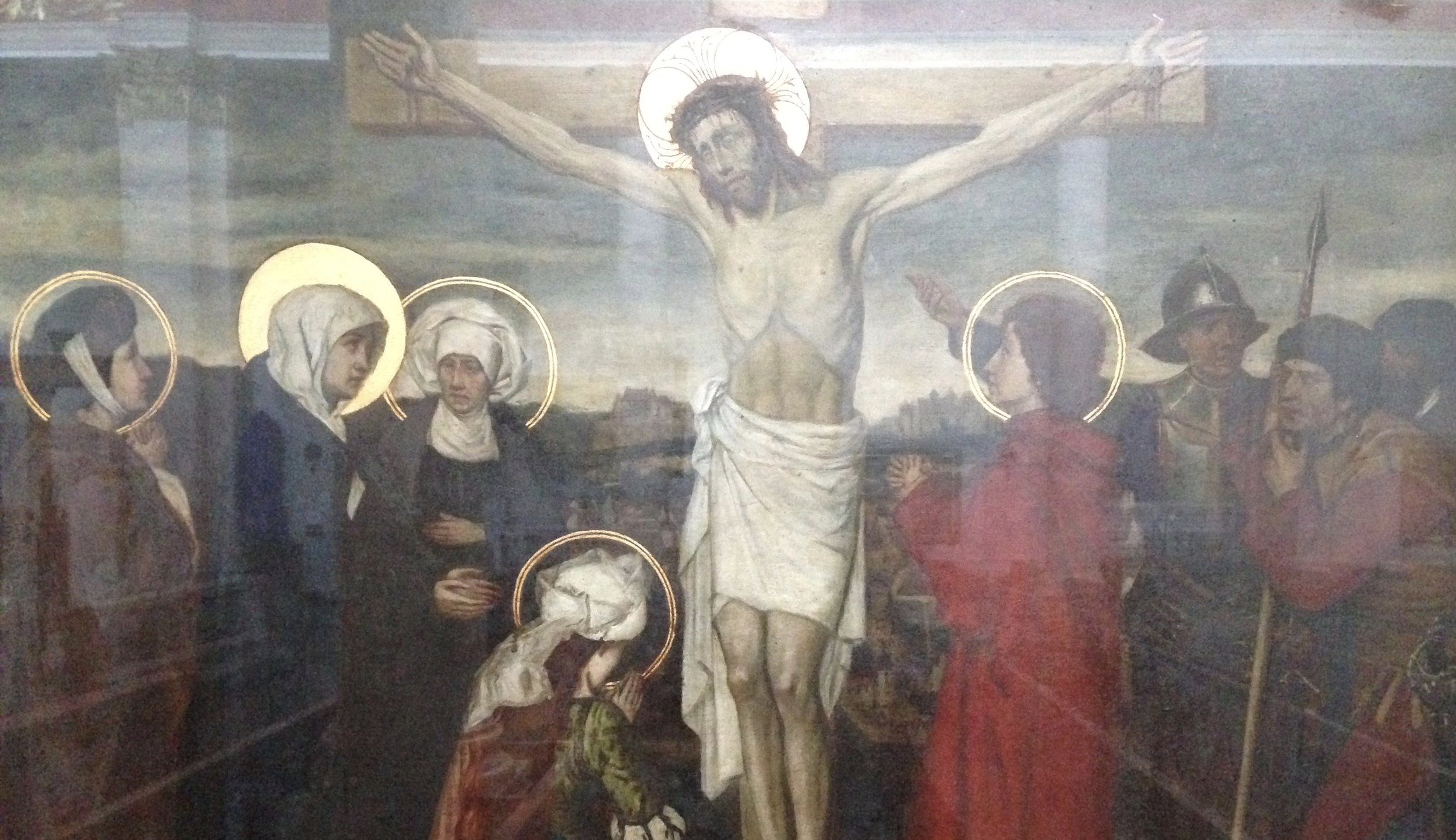 Tenebrae on Spy Wednesday 2017
Candles were extinguished and darkness descended on Our Lady of Grace and St Edward. An exquisite evening of Meditation on the eve of the Sacred Triduum, with music by the choir Cantores Missae.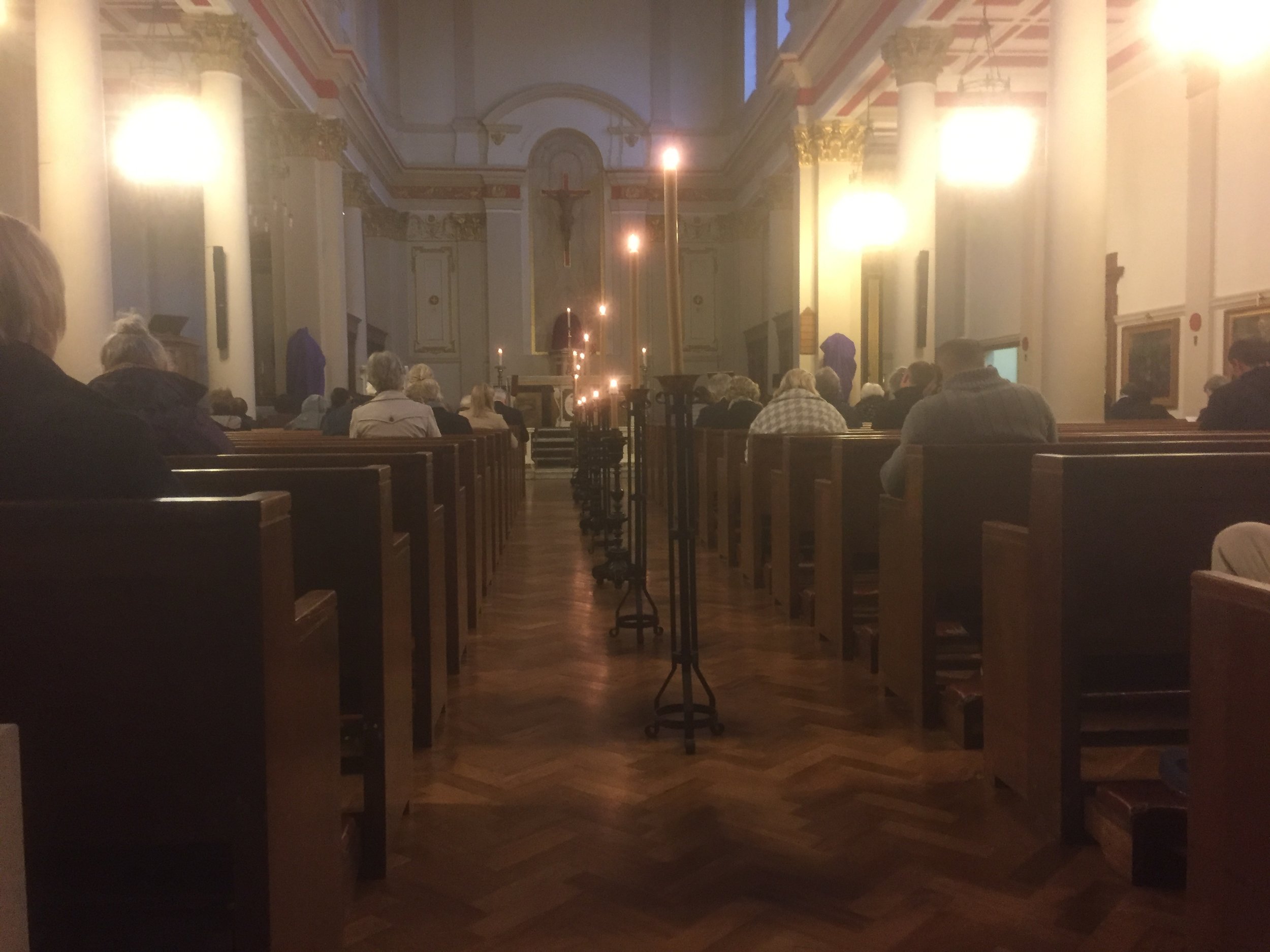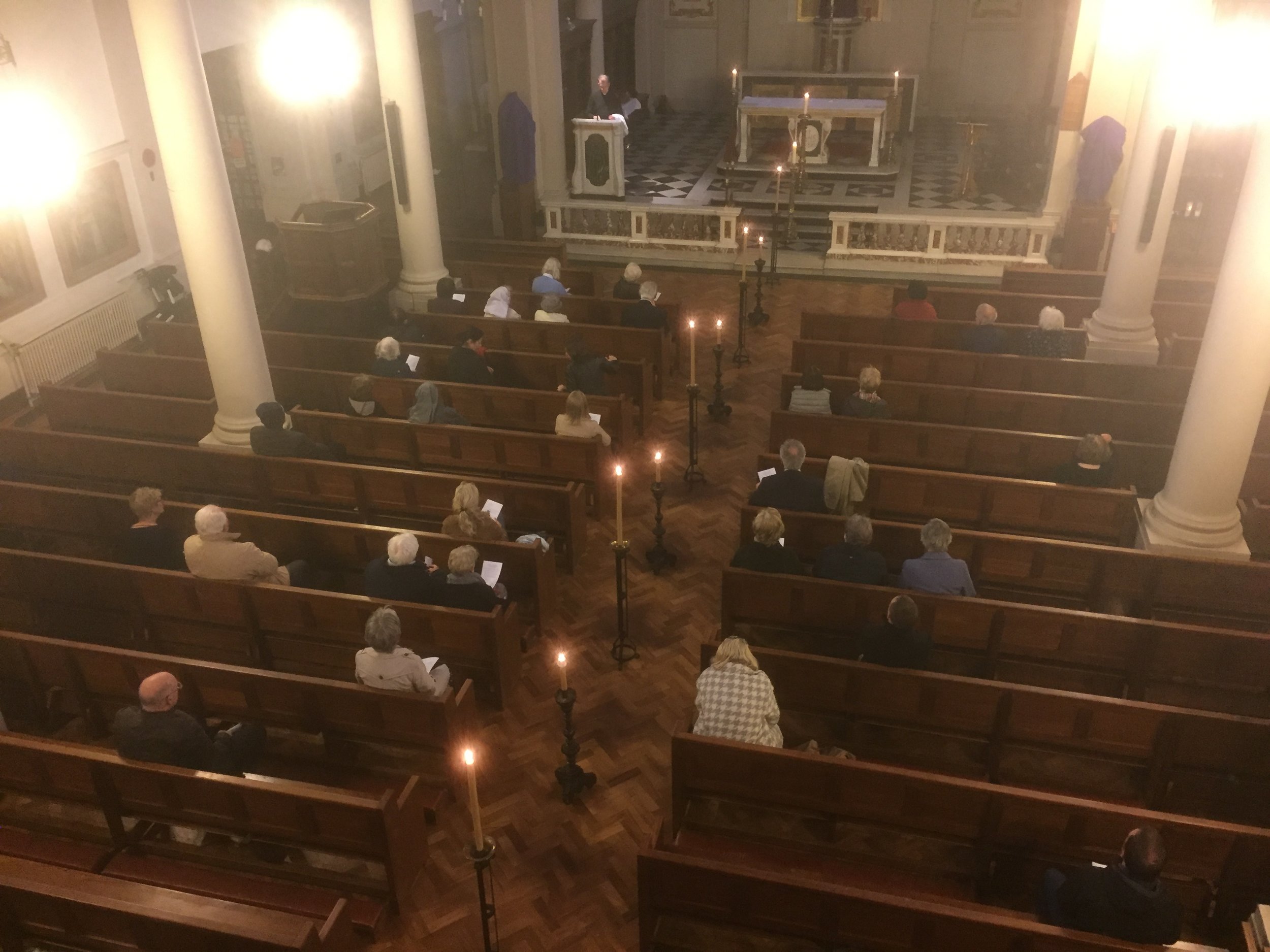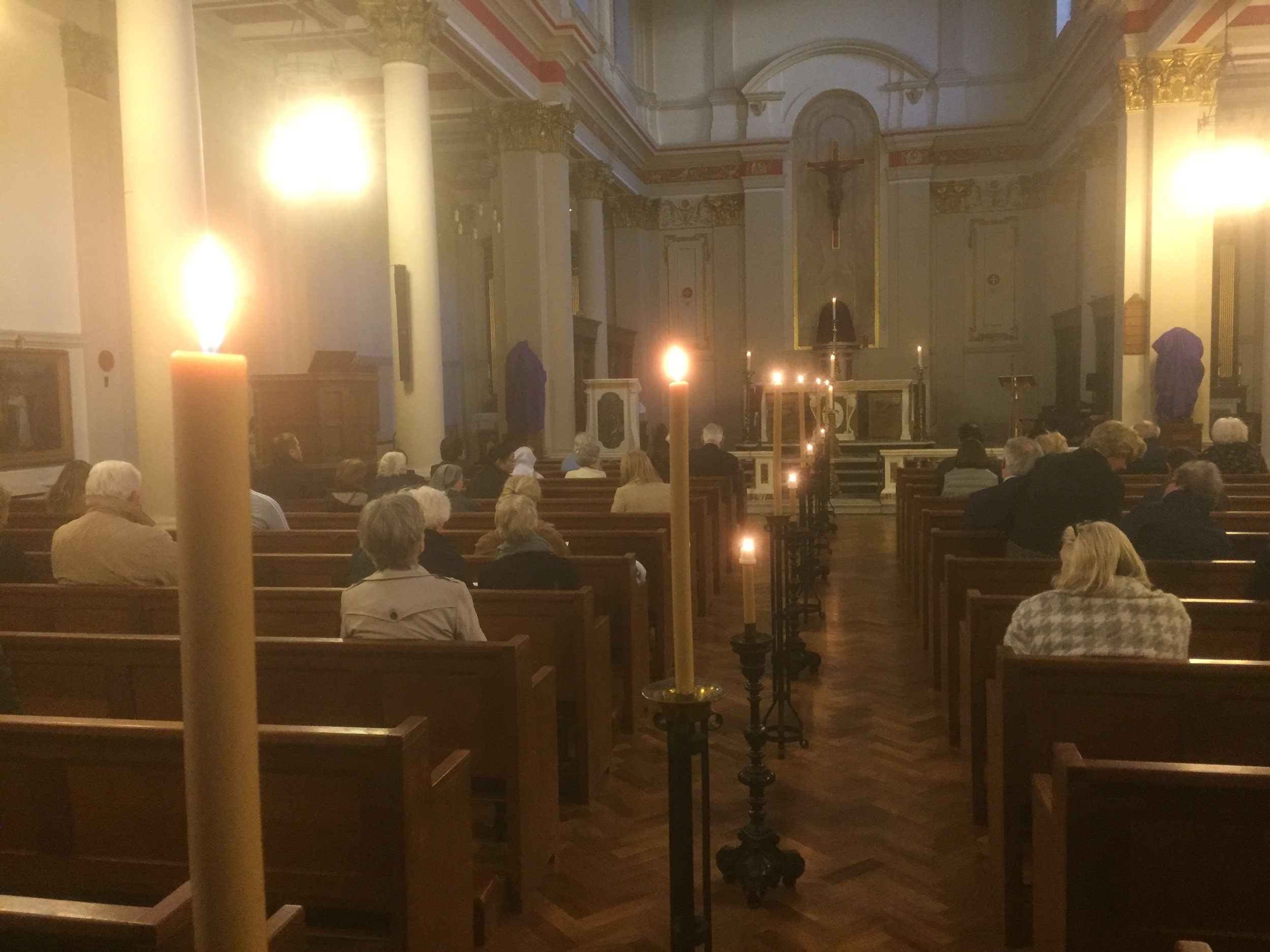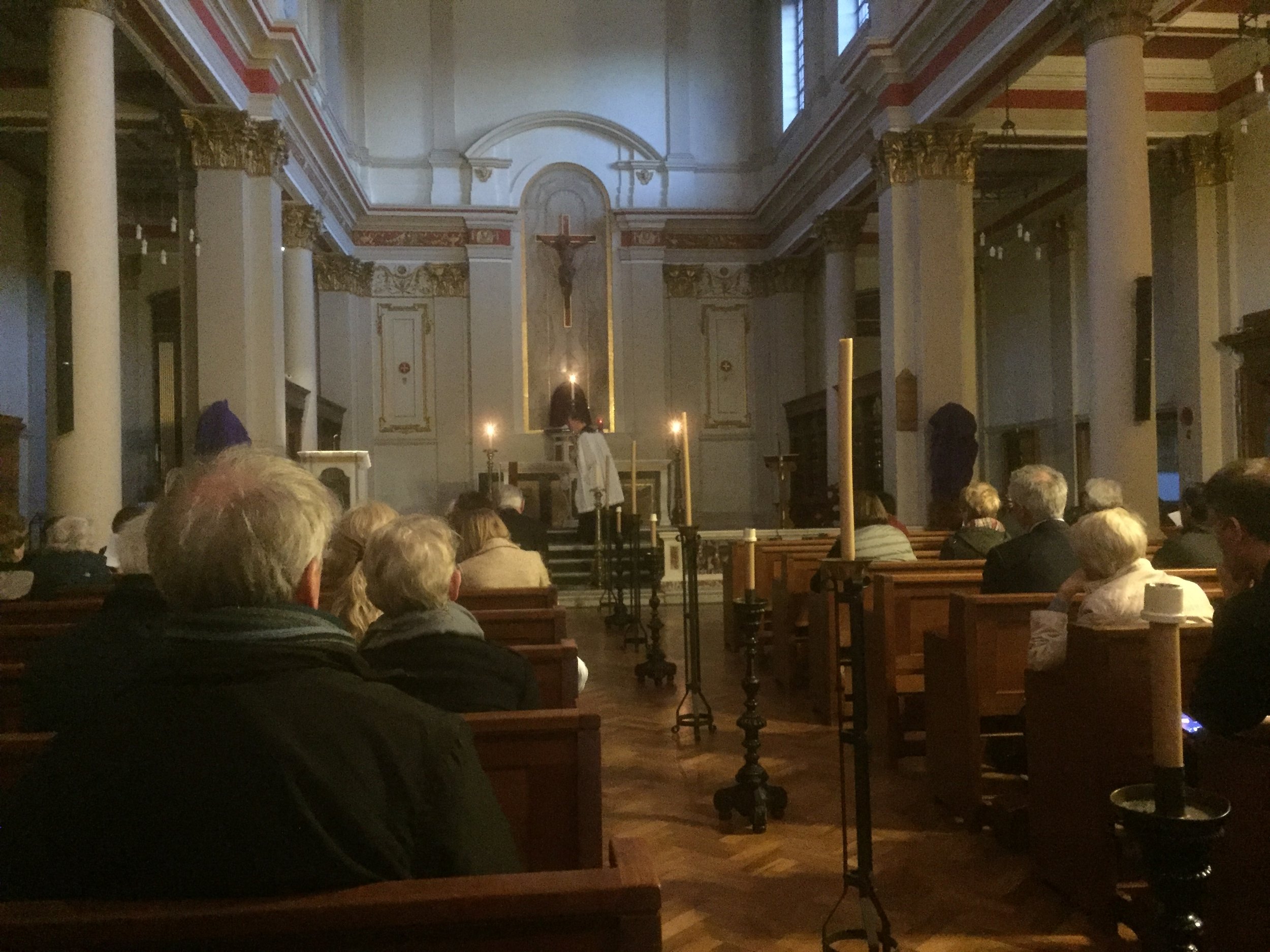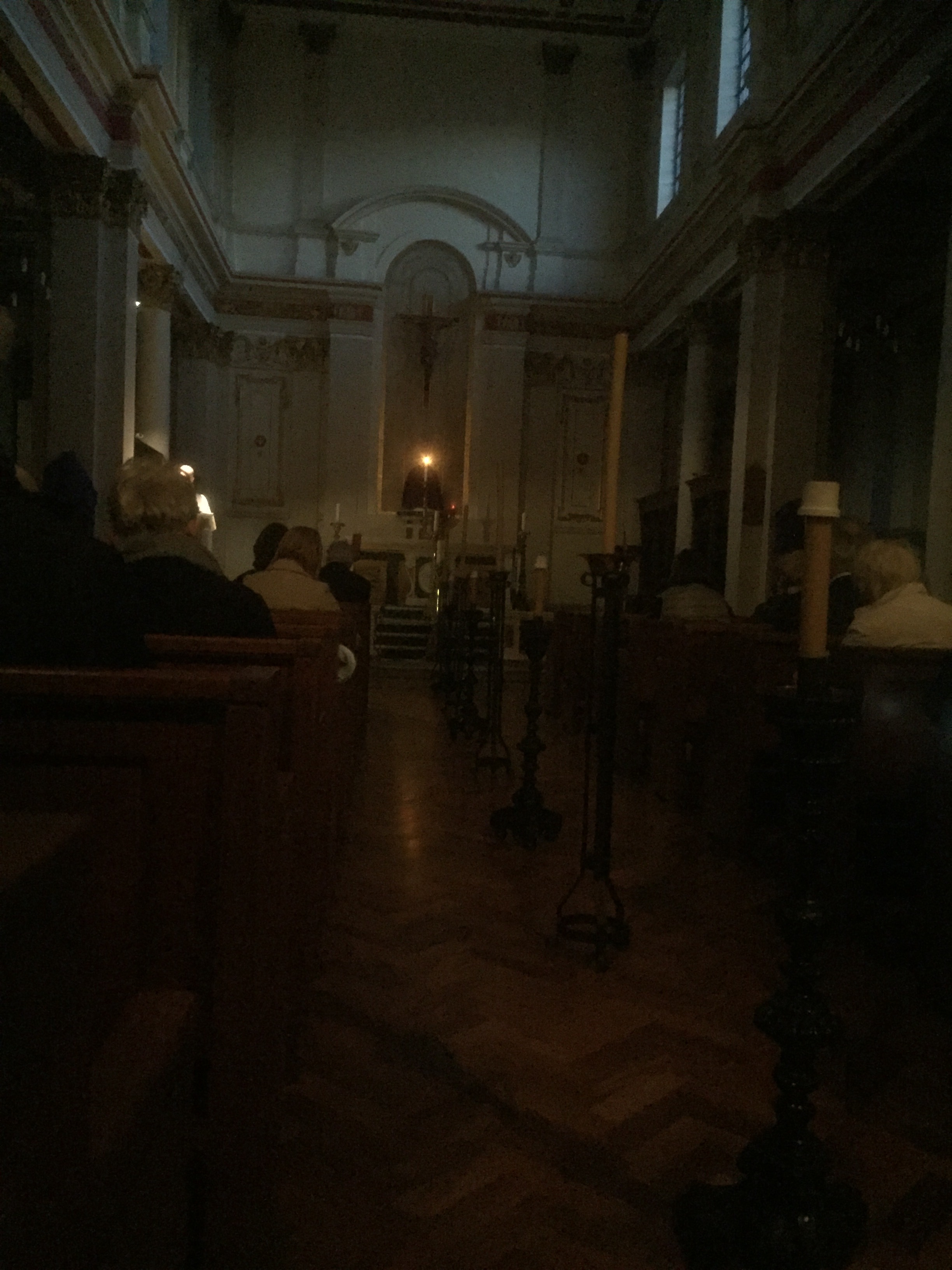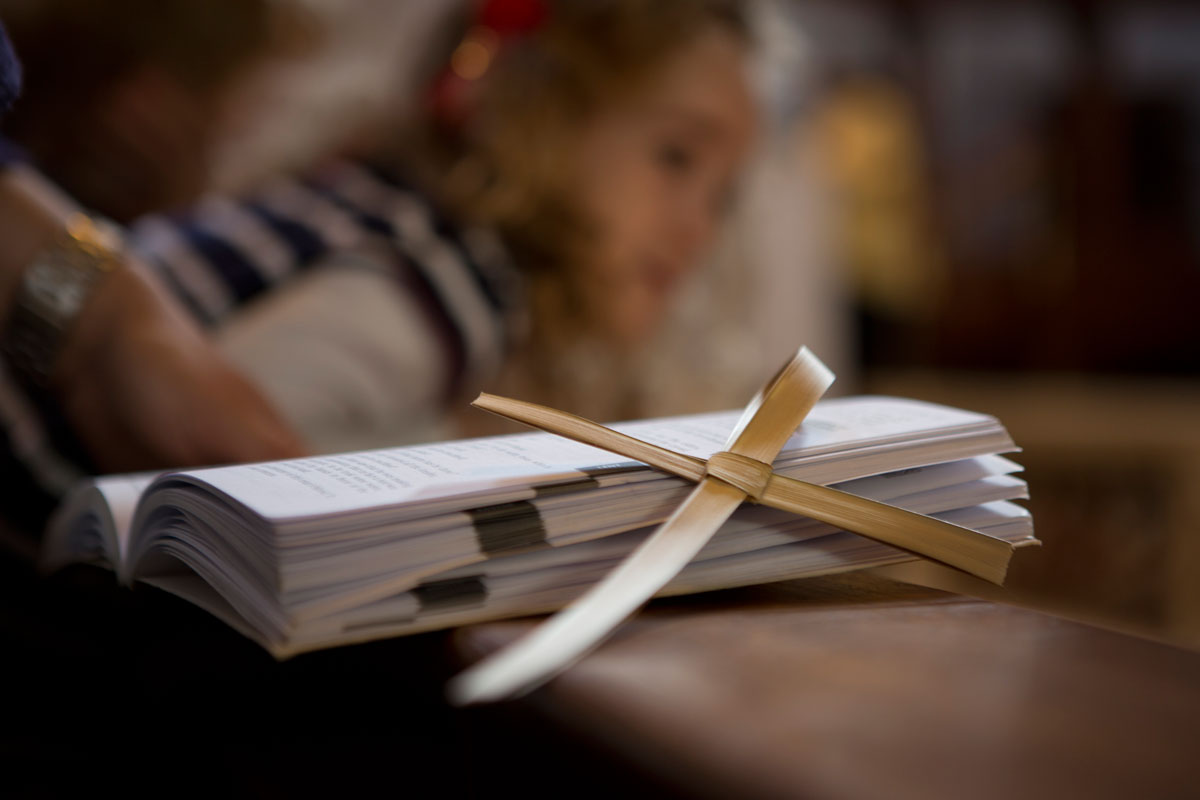 Prayer Vigil 8th February
The 8th February is the feast day of St. Josephine Bakhita and is the International Day of Prayer and Awareness against Human Trafficking. The Cenacle of Missionary Prayer Group that meets every Thursday with Sr. Natalia at the Comboni Spirituality Centre asks the Parish to join them in the praying of a Novena from the 30th January each day leading up to a prayer vigil on the 8th February in Our Lady of Grace and St. Edward between 7:30 – 9:00pm which all parishioners are encouraged to join. The prayer and vigil will focus on the aspect of the trafficking of boys, girls and adolescents with the specific slogan: 'They are just children! Not slaves!
For more information go to this site http://preghieracontrotratta.org/ and/or contact Sr Natalia. Mobile: 077 9469 2310
Canon Peter Gilbert: 90th Birthday Intentions
Our 12:15pm Sung Mass on Sunday the 1st of January was dedicated to Canon Peter Gilbert's 90th Birthday. The standing room only mass conducted by Father Peter was a wonderful way to welcome in the New Year.
Christmas 2016: Mass times
We have enjoyed welcoming the many parishioners and visitors to Our Lady of Grace and St Edward Chiswick and St Dunstan's Gunnersbury this Christmas. Scroll down to find Mass times over the Christmas and new year period.
Cardinal Cormac: a celebration of his diamond jubilee
October 31, 2016
He and his family celebrated in Rome last week with the Holy Father; on Tuesday Cardinal Vincent presided over a large gathering of Archbishops, Bishops and clergy in a packed Cathedral; on Friday 28th October, the feast of St Simon and Jude, and the actual date of Cardinal Cormac's ordination to the priesthood in 1956, his Chiswick family joined together to offer our love, thanks and prayers.
Concelebrating with the Cardinal were Canon Peter, Father Michael, Father Roger and Father Andrew, as well as James our Sunday seminarian. At his Eminence's request, it was a simple sung Latin Mass with his chosen hymns. The choir was in good voice and the church was full.
Cardinal Cormac spoke of his realisation aged 15 that he wanted to become a priest. He always wanted to be a parish priest and never expected to become a Bishop, let alone a Cardinal. At the conclusion of his homily he said how happy he was to be living here in Chiswick. As always, it was a wonderful and thoughtful homily interspersed with some good jokes. At the end of Mass he pointed out that he was No. 3 curate!
In his closing words, Father Michael said that, in fact, 1956 had not been a good year for the church – the invasion of Hungary and the Cuban crisis being two major events, so it was clear that the Almighty needed to redress the balance by ordaining Deacon Murphy-O'Connor to the priesthood.
Mass was followed by the usual festive Chiswick party in the Parish Centre, where Cardinal Cormac circulated the room to greet as many parishioners as possible before sitting down for Joseph Carty to lead us all in "For he's a jolly good fellow". Which he is, and we in Chiswick are blessed to have him.
By Dinah Wiener, Chiswick parishioner
Reflections on a Chiswick parish pilgrimage to Westminster Cathedral
October 30, 2016
Last Saturday I had a really wonderful day out, on a pilgrimage. As this is the Year of Mercy – our pilgrimage focused first on the 'Way of Mercy Walk' at Westminster Cathedral. long with our group and of course Fr Andrew – we began in the morning with Latin Mass (wonderful singing), and then the first miracle happened, we went outside the Cathedral to begin our pilgrimage – and the rain stopped!
Then after lunch and a short lecture on the Way of Mercy, a second miracle, the sun came out, as we walked towards Westminster Abbey, to visit the sacred shrine of St Edward the Confessor.
St Edward the Confessor founded the Abbey in 1050's – though sadly he died in 1066 just before it was dedicated to him. Of course it took several hundred years and alterations to become the Westminster Abbey as we know it today, but it is thanks to this pious and gentle much-loved man that we owe one of our greatest churches in London. Because of him, monarchs and anyone of importance all wanted to be married, interredor commemorated in the Abbey.
We arrived with perfect timing. The previous group were leaving the chapel and so amazingly and unexpectedly, we had the Shrine all to ourselves. Another miracle!
And so we went up the stairs into the most holy part of the Abbey and Father Andrew led the prayers as we sat around the tomb and it was one of the most evocative and moving places I think I have ever been in, the aura of St Edward the Confessor seemed very present in this small space. We were all pilgrims of course and not tourists, Saturday being The National Pilgrimage Day to the Shrine of St Edward the Confessor, which I am sure made all the difference.
The Shrine itself once covered with gold, jewels and mosaics (according to my guide book) but now bereft, stands there in its nearly 1000 year old simplicity and today we are actually allowed to touch the sacred tomb. And close by in a semi circle in the same chapel are the tombs of Kings Edward 1 and 111, Henry 111, Richard 11 and Henry V no less.
Then we sat in Poet's Corner forEvensong, led by Dean of Westminster Abbey no less. (I think) Wonderful singing – to rival the chorister sat our Cathedral that morning… and more prayers for St Edward the Confessor, King of England.
Oh and as we did all of the above, if we go to Confession this week, we will have gained a Plenary Indulgence. Always a good thing!
Suzanne von Pfluegel, Chiswick parishioner, Our Lady of Grace and St Edward
PS: One of the officials in the Abbey told us the atmosphere on Saturday was completely different to usual, which I thought was interesting.
October 9: "A priest with the gift of being able to reach out to everyone" – one parishioner's tribute to Canon Anthony Dwyer
'I wondered if anyone would come' Canon Anthony said, as we watched a seemingly unending stream of parishioners file out of the church of Our Lady of Grace and St Edward. Some four hundred parishioners who had attended the farewell mass for Fr. Tony on the evening of Saturday October 1st.
This modest statement was typical of the popular, former Parish Priest of Our Lady of Grace who was as happy being called Fr. Tony, friend and spiritual advisor, as he was Canon Anthony, Church Dignitary. A priest with the gift of being able to reach out to everyone.
This was reflected in the celebration of the Mass itself, which brought together young and old. Altar boys and altar girls, priests who first came to Our Lady of Grace as young curates Fr. David, Fr. Graham and Fr. Andrew, who is now Assistant Priest . A special mention was made of Fr. Ed who so tragically died. All were gently put through their final paces by Fr. Tony. In fact, Our Lady of Grace could be said to have assumed the role of an ecclesiastical finishing school for priests. The new Parish Priest, Fr. Michael Dunne, was the one now keeping a watchful eye on the proceedings.
Finally there were the priests who carry with them the wisdom of age, including Cardinal Cormac Murphy-O'Conner who, apart from having held the highest position in the Church in England and Wales, that of Archbishop of Westminster, has an amazing store of anecdotes to tell.
The beautiful singing of both the church choir and the choir of St. Mary's School added to the joy and sadness of the occasion.
In fact, the tributes to Fr. Tony were also a reminder of the enormous responsibilities of a Parish Priest, not just presiding at Mass, hearing confessions, anointing the sick, remembering names, or explaining the Gospel, but in building up a community of faith which requires the support of all.
'As I looked at the congregation in front of me', Fr Tony said 'which included all age groups, memories came flooding back of the many kindnesses shown to me during my eight years here and of the support I have received from the parishioners.'
And there was more to come. When Fr. Tony arrived at the Parish Centre for the reception that followed the Mass, he had difficulty getting through the crowd of well wishers to meet up with Matthew Rock, the busy Chair of the Parish Council. He presented the same picture of Fr. Tony.
'He has done so much for this Parish' Matthew said, 'launching the Parish renewal process and ensuring that the Parish has an elected Pastoral Council.' This then led to the Night Shelter Project and the monthly Food Bank collections. Hecontinued, 'but I think there is an even more important thing to say about Fr. Tony. For me, and I suspect, for many of us here tonight, it's the unseen acts, the private gestures thatmark him out as a priest and as a man....I spoke to many people before tonight and the word that kept coming up was 'kindness'. In this regard Matthew wascorrect. But beware, when Fr. Tony gently asks 'when you have a moment, could I have a word with you?' That word could turn into a far longer commitment!
Trish Williams, Chiswick parishioner, October 2016
October 3: A parishioner's reflections on World Youth Day 2016
World Youth Day 2016 – Sarah Foster
Dear Brothers and Sisters,
It was with excitement and some trepidation that I - aged 49 years old - embarked upon my first ever pilgrimage! On July 18th I accompanied five young people from our parish to World Youth Day. The name is a little misleading as it is in fact a two week long pilgrimage and it was with heavy hearts that we had to leave behind Sr. Graca who had broken her arm just days before our departure. The Chiswick party consisted of Ken, Natasha, Amy, Luca and myself and we travelled as part of a large group of 200 pilgrims from the Archdiocese of Westminster. It was with great anticipation that we departed by coach from Euston on the morning of the 18th.
The first week was spent in Lodz where we took part in an ecumenical festival organized by the Chemin Neuf community. We spent time getting to know each other as well as other Christians from around the world. I met a lovely lady from Zimbabwe at a talk given by Archbishop Justin Welby about Christian Unity. I also attended workshops and talks on personal prayer, marriage as a vocation and discerning God's will.
The second week -the official start of World Youth Day - was spent in the beautiful city of Krakow (a UNESCO World Heritage site). The blessing and graces of the first week continued into the second and it was inspiring to witness the joyful gathering of millions of young Catholics from around the world. The week consisted of inspiring talks and beautiful worship concerts culminating in a 15-mile walk to Campus Misericordia outside of Krakow for a prayer vigil on the Saturday night. After sleeping out under the stars we celebrated mass the following morning with the millions of other Catholics from our global family.
At the vigil and mass Pope Francis spoke directly to all of us, young and old:
"But when we opt for ease and convenience, for confusing happiness with consumption, then we end up paying a high price indeed: we lose our freedom." Following Jesus, he said, demands courage and a readiness to change the couch for walking shoes. "[God] is encouraging you to dream. He wants to make you see that, with you, the world can be different. For the fact is, unless you offer the best of yourselves, the world will never be different."
"The Lord doesn't want to remain in this beautiful city, or in cherished memories alone. He wants to enter your homes, to dwell in your daily lives: in your studies, your first years of work, your friendships and affections, your hopes and dreams. How greatly he desires that you bring all this to him in prayer! How much he hopes that, in all the "contacts" and "chats" of each day, pride of place be given to the golden thread of prayer! How much he wants his word to be able to speak to you day after day, so that you can make his Gospel your own, so that it can serve as a compass for you on the highways of life! "
I am so grateful to the parishioners who supported the fundraising that enabled the five of us to attend World Youth Day. As well as the words from Pope Francis resonating in my heart and mind, I came away from Poland with some new friends, a deeper understanding of vocations, a desire to deepen my relationship with Jesus by making time to pray and read scripture daily and a determination to continue working with Sr. Graca to build a vibrant youth ministry in our parish.
Thanks be to God.
October 1: Canon Anthony's Leaving Party
Canon Anthony's Leaving Party will be on the 1st of October after the 6.30 Mass in the Parish Centre.
October 15: Pilgrimage to Westminster Cathedral and Abbey
Parish Pilgrimage to Westminster Cathedral and Westminster Abbey, 15th of October. The 13th of October is the Feast of St Edward the Confessor, the co-patron saint of our parish. To commemorate this there will be a special pilgrimage to the Shrine of St Edward the Confessor at Westminster Abbey and a visit to the Door of Mercy at Westminster Cathedral. Spaces are limited to thirty so do contact the Parish Office to sign up soon as possible if you are interested. First come, first served!
Tea and Coffee is back
Tea and Coffee will be served after the 9.45 Mass this Sunday in the Parish Centre by our friendly team. Do come along and meet your fellow parishioners. All welcome, including children!
Journey of Faith meetings September
Do you know someone, not a Catholic, perhaps a friend, maybe your spouse, a colleague or neighbour, who has some questions about the Catholic Church, if so let them know about our 'Journey in Faith' group which will be re-starting in September. This group is for adults who have not been baptised and would like to be, as well as for Christians of other denominations who would like to be received into the Catholic Church, and Catholics who have not been Confirmed. The invitation is simply to 'come and see' – no pressure. For further information please speak to Fr. Andrew or contact the Parish Office
Conquerors August 25-29
'Conquerors', a dynamic Catholic Festival run for young adults (16-35) and families runs from the 25-29th of August at the National Shrine of Our Lady in Walsingham. It includes talks, workshops, live worship, meeting new friends and Mass! Please see www.youth2000.org for more information.
The School of the Annunciation August 22-25
The School of the Annunciation based at Buckfast Abbey in Devon run courses to enrich, deepen and understand the Catholic Faith better. 'Catholic Faith is joyfully transmitted in all its beauty, depth and vigour.' The dates for the Summer School are: 22nd-25th of Aug 'What must I do to inherit eternal life?' and 25-28th of Aug 'Foundations of Philosophy for Faith'. Please see: www.schooloftheannunciation.com for more information.
August 18: Pastoral council minutes
We were blessed to be joined recently by Hannah Vaughan-Spruce, director of evangelisation at St Elizabeth of Portugal in Richmond, west London, for an evening to hear about the wonderful evangelising work being done there. Click here for the summary of our discussion, and we will report further on developments in the coming weeks.
Join our parish pilgrimage on October 15
Fr Andrew is planning to take a group on pilgrimage to Westminster Cathedral and Westminster Abbey as part of the Year of Mercy in October. The Cathedral has a Holy Door and Way of Mercy and the Abbey has the shrine of St Edward the Confessor (co-patron of this parish). The date will be the feast of St Edward the Confessor, the 15th of October. Please contact the Parish Office if you are interested in coming.
June 26, 2016: Pastoral council minutes
Your Pastoral Council has been reflecting on an important and inspirational book, Forming Intentional Disciples. We hope you find the minutes of our most recent meeting interesting, and we shall provide further updates here and in the parish newsletter. Here are the minutes.
November 2015: Two key dates for new parish Confirmation programme
Next Saturday (November 14) our parish Confirmation Programme will be starting for young people in Year 9. (This is also open to parishioners from St Dunstans Gunnersbury and St Joseph's Grove Park.) Application forms with course information and dates are now available to collect in person from either Canon Anthony or Fr Andrew after Mass. Please fill in the forms as soon as possible.
There will be a parents' evening for Confirmation this Thursday (November 12) in the St Edward's Room from 7.30-9pm. This will be an opportunity to run through the course outline and meet some of the Catechists.
October 2: The Chiswick Charity Gala Night & Auction
On Friday the 2nd of October, the Parish will be running an auction as part of their Gala Night, to raise funds for the various charities we support. Here is a selection of auction items available to bid for in advance of the the big night. If you would like more information or wish to make a bid please email thechiswickcharitygalanight@gmail.com Please note that bidding will close at 10pm on Wednesday the 30th of September.
October 1: The WHY? Course
We warmly invite you to the WHY? Course which started earlier this week and continues next week on Tuesday mornings between 11.20 and 12.20 and on Thursday evenings from next week between 8 and 9pm. For any information please find and speak to Fr Andrew.
September 27: Come and celebrate the gift of marriage and renew your marriage promises at a special Mass
The Sacrament of Marriage is a wonderful gift to the Church reflecting, as it does, God's love. Next Sunday (September 27), we will have the opportunity to celebrate this Sacrament and, for those who are married, to renew their wedding promises. We hope many of our married couples will join in this celebration at the 12.15 Mass. Afterwards, there will be refreshments in the Parish Centre.
The idea for this special Mass was born out of our recent parish family project, so thank you to all those who took part and suggested it. (Scroll down to May 26 to read the report that the parish sent to the Bishops in the build-up to the second Synod on marriage and the family.)
September 2015: Cardinal Vincent Nichols' statement on the refugee crisis
"The Catholic Church in England and Wales will respond to Pope Francis' challenge to be generous in supporting people who have been forced to flee their homes
"We urge government to respond positively to this crisis and to provide the necessary resources and funding to ensure the effective reception and long-term resettlement of these desperate people. We will work with both government and other responsible authorities to meet this grave challenge.
"We invite all Catholics to respond in prayer and in real, practical action. It is my hope to join the prayer vigil which is taking place outside Westminster Cathedral tomorrow night.
"Guidance will follow shortly on how the Catholic community in England and Wales can practically respond to this refugee crisis."
Bishop Nicholas will lead a prayer vigil on the evening of Tuesday September 8 from 7pm in the piazza in front of the Cathedral, to which all are welcome. As events are unfolding, it has not been possible to provide earlier notice.
July 15: Express your View about the proposed Bill to Legalise Assisted Suicide
The Cardinal has asked Catholics to take action against a proposed Bill to legalise assisted suicide. The Bill would have a dangerous impact on the most vulnerable people. Please contact your MP, urging them to attend the debate and vote against the Bill. If at all possible, before the start of their recess on 22 July. (Email would seem to be the swiftest means to contact MPs.) MPs do listen to their own constituents; what is needed is more and better palliative care, not assistance with suicide.
You will find a model MP's letter below, as well as a Q&A on the issue of Assisted Suicide. Do please use this and, where appropriate, include any relevant personal experience in your letters. The more letters you send to MPs, the greater the chance of defeating this most dangerous Bill in the autumn. You will find more information at www.catholicnews.org.uk/assisted-suicide
July 7: Special Holy Hour on Saturday July 11 at 19.30
On Saturday evening there will be a special Holy Hour for Proclaim' 15, an initiative to pray for Evangelisation set up by the Bishops of England and Wales here in the parish. It will start at 19.30 at the Church after 6.30 Mass. Please do come along and pray for this important work. All are welcome! There's more about Proclaim' 15 here: http://rcdow.org.uk/faith/proclaim-westminster/
June 28: New date for parish Gala night
The Gala Night date has changed to Friday 2 October, due to anticipated traffic congestion around the venue caused by rugby international events. We hope this does not cause anyone inconvenience. Tickets have been selling very fast, and the committee are now taking names for the waiting list, in case there are any cancellations due to the date change. To find out more, see the parish newsletter or please emailchiswickcharitygalanight@gmail.com
May 26: OLOG sends Chiswick parish responsez to The Call, The Journey, The Mission reflection document to the Bishops
In the run-up to the second Synod on Marriage and Family Life in October 2015, parishes were asked to reflect on the issues facing families and marriage. Five groups of parishioners met during Lent 2015 to discuss the Bishops' key questions; one open parish meeting was also held. You can now read the summary of our parish's discussions, which have been put forward to the Bishops. Thank you to everyone who took part and hosted events, which illuminated many of the joys and challenges facing families and married couples today.
March 7: Read the Bishops' letter about the forthcoming General Election
The Letter from the Bishops of England and Wales about the General Election is now available to all parishes - click here. We will make printed copies of the Letter available in the church. It is also available on the Diocesan website).
March 7: Four new exciting Catholic events
February 19: Find out lots of Lent facts and activities in our Children's Lent leaflet
The forty days of Lent remind us of the forty days Jesus stayed in the desert fasting and praying. Lent gives us time to prepare for the joy of Jesus' resurrection at Easter.
This Lenttry to think about what you can do to make extra room for God in your heart. You could do this by giving up and then filling up. Giving up something we like can help us to understand how much Jesus gave up. How about giving up pudding, watching TV or playing on the computer just one day a week in Lent? Filling up that time with something good can bring us closer to God. How about trying to read one Bible story, or saying one extra prayer a week? You could even give one week's pocket money to the Parish Lenten project.
Find out lots more Lent facts and activities in our special Children's Lent leaflet. Click here to get your own copy!
February 12: Pastoral Council launches new parish Lenten Family project
Minutes from the seventh Meeting of the Pastoral Council
Monday 26th January 2015
Those present: Canon Anthony Dwyer, Fr Andrew Chamiec, Matthew Rock (chair), Sr Graca Almeida(representing the Youth PTT group), Jo Hodgson (representing the Outreach PTT group), Maxime DeThomas (representing the Formation PTT group), Brendan McCarthy, Ginette Lytton Cobbold (Communications Assistant), Victoria Santer.
Apologies: Tumelo Makhoabenyane, Patrick Rafter (Youth representatives), Clare Muldoon, Simon Williams
1. Our Advent Parish Mission - "Everyone is Welcome this Advent and Christmas"
A new parish website has been launched and Twitter and Facebook are active. A big thank you to Matthew, Sean Simone and Victoria Santer.
Meeters and greeters did good job of welcoming newcomers to the church over Christmas. Involvingchildren worked well to make people feel welcome.
Evangelii Gaudium workshop went well for the first workshop but no attendance for the second.
Parishioners' Christmas lunch was very well attended with lots of volunteers helping
Taize prayer meeting will continue as they are enjoyed by all.
Actions to continue with our "Everyone is welcome" campaign:
Youth Group – actively inviting new participants. – Sr Graca/Tumelo/Patrick
Parish Youth Club in the parish centre needs to be advertised more and perhaps to be held on a specific night of the week so people attend regularly. Posters and parish media
St Mary's School – will also put notices up on notice boards and newsletter at St Mary's School to tell them about youth events at the church. Perhaps also talk to the head-teacher to encourage more collaboration between church and school.
Collaboration with other parish youth groups – work together to encourage more participation and evangelisation.
Flame – being attended by the young adult group in the summer. Perhaps put posters up in the church to invite more people to join in and advertise through the parish media.
Taize Prayer meetings also to be advertised more widely.
Night Fever at St Patrick's in Soho square was well attended by the young adult group. Next meetings are on 31st January, 20th March and 11th July.
More Welcomers to be recruited to greet parishioners at Mass - Matthew
Consideration will be given to a Church "Open day" after Easter, at which we can welcome non-Catholics into the church - Max
Outreach Group – needs new impetus. Contact St Mary's School to see if any of the young mums want to get involved in or organise more activities in the parish. - Jo
Place to have coffee at the parish centre – at present after the 9.45am Sunday mass twice per month. Could this be increased? – Fr Tony
Social Group leader replacement to be discussed with existing group – Fr Tony
Summer Fair – new committee members need to be formed - Fr Tony to speak to Clare Muldoon. Requests to the parish are ongoing
2. Our Parish Mission for this First Quarter: The Call, the Journey and the Mission - An Invitation from the Bishops of England and Wales to Reflect on the Gift of Marriage and Family Life
The next Synod in Rome will take place in October 2015 and will focus on the theme of The Vocation and Mission of the Family in the Church and in the Contemporary World. It wouldbe useful to reflect both personally and in groups – people joining together in our parish, praying together and discussing the issues that face the family today. The 6 questions we as a parish need to consider are:
What are your joys and hopes of marriage and family life today?
What are your struggles and fears of marriage and family life today?
How can we better understand marriage as a vocation?
How does your marriage enrich you?
How does your family life enrich those around you?
In what way, through the abiding presence of God, is your family "salt of the earth and light to the world," and a place of and for handing on our faith?
It was also agreed to add a further question: In what ways could the parish better support marriage and family life?
Actions:
To invite married couples to form groups to discuss the above questions. Members of groups could be parents from St Mary's School, UCM could also be consulted. Also some open groups could be set up, and advertised, for individuals to drop into. Groups could be of 6 or 8 people to reflect on these questions and then present findings to the parish. A listening exercise to hear what people concerns are to present back to the bishop by May to form part of our diocesan response to these questions. – Fr Tony, Matthew
By listening to people's concerns we will find out how we as a parish can best support marriage and family life.
3. Proclaim 15
There is a meeting at Vaughan House at 7.30pm on Tuesday February 3rd to provide tools on how the parish can become more of an evangelization vehicle.
Action:
Parish council member to attend if possible – Max, Simon, Clare, Jo
4. Lent
There will not be Lent talks this year but a series of Aspects of Prayer events.
Actions:
Prayer series – There will be four workshops on prayer during Lent showing different ways to pray (art, music, the gospels)/ They will take place on Tuesdays, commencing on 24th February. 20 minutes for each theme followed by guided prayer. It is hoped on the fifth Tuesday to draw together the different themes.
Taize prayer will take place, on one evening, during Lent – Sr Graca
Promote these activities through website, social media, posters outside and on noticeboards – Matthew, Brendan, Victoria
Lenten Project – either Christians in Syria or Human trafficking organization to talk at Lent – Fr Tony to consult and confirm
5. AOB
Actions:
Fr Andy to speak to Jim Cullen to recruit more altar servers – adults as well as children.
6. Second Quarter Mission: Themes from the General Election on May 7th
Actions:
Workshop at end of February to discuss election themes. Date TBA – Fr Tony/Matthew
Next Parish Council Meeting. At end of March. Date TBA – Fr Tony/Matthew
January 17: Thank you from Uganda!
The much-needed Nissan truck that the parish raised money for during our Lenten appeal in 2014 has finally arrived in Uganda! We've just received photos and a letter to us all from Uganda:
Dear All
Greetings from Fr. Patrick Nyakasura Catholic Parish We are ok here
Happy new year 2015. Please receive the Photos of the Nissan Hard body. It's a nice vehicle. Thank you very much for your contribution. God bless you. Now we are constructing the wall fence for the security of the Parish property and Priests. Greet everybody in your community.
Yours
Fr Patrick
27 December: Christmas Appeal for donations for the 2300 Young Refugees sleeping rough in the woods of Calais – only 4 hours from London
A huge THANK YOU to all those that contributed to keeping some of the 2300 refugees camped in the woods in Calais warm this Christmas. On 27th December the Comboni Sister's Cenacle group in Chiswick personally took your donations and distributed them to the refugees in Calais. We are going again on 31st January with EMMAUS to take more donations. Read more about this on our Blog page.
To donate online: https://mydonate.bt.com/fundraisers/calais
For more information : www.stopsinaitorture.org/calais/
See our youtube video of the Calais trip : https://www.youtube.com/watch?v=gcTaoHpZvsg
18 December: Christmas at Our Lady of Grace
As we approach Christmas, we hope that the parish will come together around our mission that "Everyone is Welcome". While Christmas is a joyful time, it can also be a lonely time for many. Parishioners are encouraged to reach out to other, possibly isolated, parishioners, to those who have become disengaged from the Church or to those who are simply curious about what the Church has to offer. Please extend a warm welcome to friends to join us at a parish event, Carol Service or Mass. They will receive a warm welcome... Timings for Masses, Confessions and Carols are listed here.